Edgar Mine (Colorado School of Mines Experimental Mine)
Overview of the Collection
Collection, fl. 1881-1997.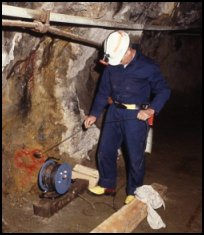 200 maps; 133 color slides
The Colorado School of Mines Experimental Mine (Edgar Mine) Collection provides information on the history and development of the Mine and its educational role at the School of Mines.
The collection consists of: approximately 200 maps, mostly student mapping projects with the extensions of the Mine (scattered, 1947-1997); plat maps of the area around the Mine (1880s-1950s); and 133 color slides of scenes underground (1989).
The maps and slides have been cataloged as separate collections in the Library Catalog and are stored in the Russell L. & Lyn Wood Mining History Archive. Of the slides, 114 are digitized and available via the Image Database (please contact Lisa Dunn about using the Image Database).
If you have materials related to the Edgar Mine that you would like to donate to the Mining History Archive, contact Lisa Dunn.
---
About the Edgar Mine
The Experimental Mine is located in Idaho Springs, Clear Creek County, Colorado. Originally known as the Edgar Mine, it was an active producer of silver and gold, with some lead and copper, in the 1870s.
The Mine passed through a number of hands before being purchased by the Big Five Mining Company.
Big Five leased the Mine to the Colorado School of Mines for training purposes in 1921. The School of Mines eventually acquired the property and surrounding properties for use as an underground classroom for engineering education and as a research facility. The Mine has also been used to train outside groups in mine rescue techniques and disaster preparedness.
The Edgar's workings include the Miami Tunnel, Edgar shaft (which follows the original Edgar vein), and the Big Five Tunnel. The Edgar and associated properties have been included in the Idaho [Idaho Springs] and Spanish Bar mining districts.
---
Maps, Text and Diagrams
| | |
| --- | --- |
| Mine surveys (by Survey Number) include: | CSM students' projects include: |
| 294 Kangaroo Lode | Experimental Mine, vertical cross sections |
| 518 Edgar No. 2 [Lode] | Experimental Mine, addition to drafting lab, interior, diagram 1, diagram 2 |
| 669 Nonpareil Lode | Experimental Mine, addition to drafting lab, exterior, diagram 1, diagram 2 |
| 776 Hub Lode | Idaho Springs, City Survey |
| 939 Rattler Lode | Mine surveys by Idaho Springs Townsite, blueprint |
| 983 Edgar No. 1 Lode | Quartermaster Claim Survey Map |
| 1051 Boreas Lode | |
| 1058 Argo Lode | |
| 1059 Cornucopia Lode | |
| 1066 [text only] | |
| 1144 Edgar Union Lode | |
| 1152 Lightning Streak Lode | |
| 1185 Quartermaster Lode | |
| 1311 Bride Lode | |
| 1312 Cash Lode,map 1, map 2 [amended] | |
| 1313 Dederick [Lode] | |
| 1346 Cricket Lode | |
| 1347 James Lode | |
| 1348 Martha Lode, map 1, map 2 [amended March 1889], text [amended August 1888] | |
| 1349 Ticknor Lode, map 1, map 2 [amended] | |
| 1361 Oakland Lode | |
| 2198 Esmaralda Lode | |
| | |
| 8264 Summit Lode | |
| 11324 Robson and Little Annabel Lodes | |
| 11562 [text only] | |
| 12158 Newton Lode | |
| 12218 Shaw Lode | |
| 12762 Canton and Competition Lodes | |
| | |
| 14034 Bryan Lode | |
| | |
| 18654 Gold Button Lode | |
| 20794 C.S.M. No. 1, No. 2, No. 3 and No. 4 Lodes, [3 maps] | |