Mine Reports Collection
What's a Mine Report?
Mine reports are documents on a mine or group of mines. This may include text, maps,photographs, correspondence, brochures and other print materials. Mine reports from the USBM Mine Map Repository Program are also referred to as "mine maps."
---
About the Collection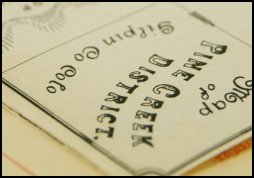 The Library's mine reports collection (1860s-mid 1900s) consists of about 1,500 files and 34 microfilm rolls. The original collection is from the Mine Map Repository, Intermountain Field Operations Center (Denver), US Bureau of Mines. Reports from other sources have been added over time. Geographic coverage focuses on Colorado and the western U.S., but there are no geographic limits.
The reports in print are located in the Russell L. & Lyn Wood Mining History Archive. A growing number of mine reports can be viewed in the Mines Institutional Repository. Physical condition ranges from good to very fragile. The original collection from the Mine Map Repository has overlap between the print and microfilm.
---
How to Find Mine Reports
Library Catalog -- Search by mine name or district. For a complete list, search using the phrase "mine reports" and filter your results by Location to the Mining History Archive. There is also a Mine Reports Card File (Reference Room) that indexes our original collection.
Insitutional Repository -- A growing number of the Library's Mine Reports have been digitized and are available in the Mines Institutional Repository.
Mine Map Repository Alphabetical List of Mines (Reference collection) -- Computer printout of the original USBM microfilm project, including reports from other states west of the Mississippi River. We have a small subset of the microfilm rolls on this List (Room 119, Floor 1):
Rolls 4076-4082
Rolls 4089-4098
Rolls 4115-4117
Rolls 4119-4123
Rolls 4125-4130
Rolls 4140, 4168-4169

At Other Organizations:
Colorado State Archives, Historic Mine Report Files Index c1900-1980.
Denver Public Library, Western History and Genealogy Collection -- Colorado Bureau of Mines Records.
National Mine Map Repository (NMMR), Office of Surface Mining and Enforcement (OSMRE), Green Tree, Pennsylvania
NMMR database -- Search by mine name and geographic area. Does not yet include all known mine reports.
Other eastern states cooperate with OSMRE and/or maintain duplicate collections of mine maps (mostly coal) for their state.
National Archives and Records Administration - Rocky Mountain Region (NARA), Denver, Colorado -- Includes a collection of mine reports from the western US. Accessible on-site only.
As of 1/2009, the U.S.Geological Survey (USGS), Denver, held a collection of mine reports from the closure of the USBM Denver office, awaiting transfer to NARA. This collection is not accessible to the public.
Mine Map Repositories Database (bituminous and anthracite coal mines) -- Bureau of Mine Safety, Pennsylvania Department of Environmental Protection.
---
About the Mine Map Repository
The National Mine Map Repository (NMMR) is an ongoing program operated by the Office of Surface Mining Reclamation and Enforcement (OSM). Its mission is to obtain maps on past and current mining operations and preserve them on microfilm. The NMMR is in the process of making its collection available digitally.
Back story: An act of Congress established a mine map repository operated by the U.S. Bureau of Mines (USBM) in 1969. As a result, two repositories were set up, one in Pittsburgh, Pennsylvania for states east of the Mississippi, and one in Denver, Colorado for states west of the Mississippi plus Louisiana and Minnesota.
These repositories started operations in 1970. The Pittsburgh repository consisted of an estimated 500,000 maps by 1974, about 22,000 of which had been microfilmed. The Denver repository's mine reports were duplicated in a microfilming project of some 17,800 reports in the early 1970s.
In 1982 the repositories' responsibilities were transferred to the Office of Surface Mining (OSM). When the USBM was dissolved in 1996, the maps from its offices were consolidated into the current Repository (NMMR) in Pennsylvania. It is not clear whether the existing collections of mine reports at the Colorado School of Mines, NARA (Rocky Mountain Region) and the USGS (Denver) are duplicates or original reports from the Denver repository.